Authorised Producers & Global Distributors of Professional GS & GM MIDIfiles
*All MIDIfiles Available Direct Download, 24 Hours A Day, 7 Days A Week.
Advanced Search, Super Secure.
The purpose of this BandTrax web is to enhance the support services BandTrax provide to our customers. BandTrax have provided a number of resources here to help you gain the latest information of available files, data resources, and help resolve problems.
BandTrax pride itself on the quality, service and support offered to it's customers and associates.
All songs listed have been programmed with the Professional in mind, have been tested in "Live Gig" situations and are available. The result.....you can rely on a great MIDIfile every time you order.
When you use BandTrax MIDIfiles you join an Elite selection of musicians who know that all MIDIfiles are not equal!

Would you like to get our FREE BandTrax Newsletter?
If you would like our regular newsletter with handy tips, latest releases, top sellers, answers to questions, etc., Click


Your e-mail address will not be given to any third party and will be used only to deliver information about BandTrax products.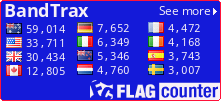 Midifiles in GM

Midifiles in GS
Midifiles in Format 1
Midifiles in Format 0
Lyrics & Track files
Advanced Search
Instant Download
Super Secure Server

| | | | | | | | | | | | | | | | |
| --- | --- | --- | --- | --- | --- | --- | --- | --- | --- | --- | --- | --- | --- | --- | --- |
| BandTrax | Midifiles | Midifiles | Midifiles | Midifiles | Midifiles | Midifiles | Midifiles | Midifiles | Midifiles | Midifiles | Midifiles | Midifiles | Midifiles | Midifiles | BandTrax |
| Midifile | Elvis Presley | Beatles | Jim Reeves | Cliff Richard | Daniel O'Donnell | Foster & Allen | The Shadows | Buddy Holly | Tom Jones | Neil Diamond | Roy Orbison | Alan Jackson | Creedence Clearwater Revival | Johnny Cash | Midifile |
| Midifile | Rod Stewart | The Eagles | Billy Fury | Engelbert Humperdinck | Udo Jrgens | Garth Brooks | John Denver | The Rolling Stones | Abba | Elton John | The Mavericks | Glen Campbell | Michael Buble | Linda Ronstadt | Midifile |
| Midifile | Fleetwood Mac | Dolly Parton | The Everly Brothers | Willie Nelson | Anne Murray | Shakin' Stevens | Joe Dolan | Paul McCartney | Queen | Robbie Williams | Del Shannon | Gene Pitney | Merle Haggard | Nat King Cole | Midifile |
| Midifile | Bobby Darin | The Carpenters | Status Quo | Andy Williams | Billy Joel | Bryan Adams | Matt Monro | Crystal Gayle | Eric Clapton | James Taylor | Slim Whitman | The Bee Gees | Brooks & Dunn | The Hollies | Midifile |
| Midifile | The Beach Boys | Dean Martin | Pat Boone | Patsy Cline | Bon Jovi | Christmas Standards | Frank Sinatra | Johnny Mathis | Neil Sedaka | The Drifters | George Strait | Tony Christie | Buck Owens | Eva Cassidy | Midifile |
| Midifile | Leo Sayer | Phil Collins | The Searchers | Joe Cocker | Perry Como | Sam Cooke | Smokie | Stevie Wonder | Dwight Yoakam | Ricky Nelson | Shirley Bassey | The Ventures | Barry Manilow | Chris Rea | Midifile |
| Midifile | Herman's Hermits | Bruce Springsteen | Chuck Berry | Kenny Rogers | Norah Jones | Sean Wilson | Shania Twain | Simon & Garfunkel | Dire Straits | Don Williams | Dr. Hook | Cat Stevens | Charley Pride | The Four Tops | Midifile |
| Midifile | Take That | Toby Keith | Carole King | The Corrs | Marty Robbins | U2 | Boy George | Carrie Underwood | Fats Domino | Frankie Laine | Gary Moore | Lionel Richie | Michael Jackson | Tina Turner | Midifile |
| Midifile | Johnny Rivers | Pam Tillis | Rory Gallagher | Van Morrison | Bobby Vee | Conway Twitty | Hank Williams | Olivia Newton-John | The Platters | Celine Dion | Gene Vincent | Manfred Mann | Simply Red | Blondie | Midifile |
| Midifile | Bobby Vinton | Derek Ryan | Earth, Wind & Fire | Madonna | Mariah Carey | Nickelback | Paul Anka | The Seekers | Showaddywaddy | Sting | Isla Grant | Randy Travis | Ronan Keating | Ronnie Milsap | Midifile |
| Midifile | Vince Gill | Westlife | America | Barbra Streisand | The Bellamy Brothers | Connie Francis | Johnny Tillotson | Maroon 5 | Travis Tritt | The Animals | Bread | Eddie Cochran | Gerry And The Pacemakers | Santana | Midifile |
| Midifile | The Kinks | Lynn Anderson | Michael Bolton | Whitney Houston | Bill Haley | Billy J Kramer & The Dakotas | Brad Paisley | Cher | Chris De Burgh | Dusty Springfield | Enrique Iglesias | Kelly Clarkson | Lee Kernaghan | And Heaps More | Midifile |
| BandTrax | Midi | Midi | Midi | Midi | Midi | Midi | Midi | Midi | Midi | Midi | Midi | Midi | Midi | Midi | BandTrax |


1000's of Midifiles for 100's of artists


BandTrax. (ABN 63 378 299 667) All other products mentioned are registered trademarks or trademarks of their respective companies.
Questions or problems regarding this web site should be directed to here.
Copyright 2018 BandTrax. All rights reserved.
Last modified: Thursday July 07, 2022 05:17:15.

*Your server, ISP, mail server, bandwidth, speed, software, 3rd parties, firewall, spam filtering, incorrect information, may cause delays.


BandTrax WEB sites have been consistency checked using;
Internet Explorer - Mozilla Firefox - Google Chrome - Microsoft Edge


Terms of Use
Copyright Notice
Trademark Notice